SFT40 Ball Float Steam Trap
SFT40 Displacement Curve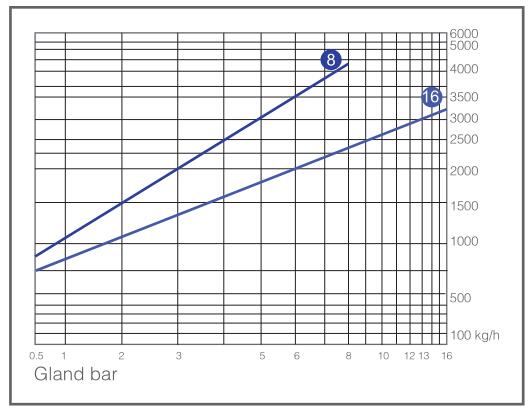 Applications
1. Large and medium-sized heat exchangers, kettles, reboilers, distillation and other heating equipment.
2. Large-scale air separation and coil heating equipment.
Material
| | |
| --- | --- |
| Cap | WCB |
| Valve Body | WCB |
| Seat | Stainless Steel |
| Disc | Stainless Steel |
| Other Internals | Stainless Steel |
Data
Size Tabl
e
Type

Conn

DN

PN

Working

Pressure

MPa

Temperature°C

Pressure

MPa

Diameter (mm)

U.W

Kg

L

H

H1

W

SFT 40T

Thread

25-32

25

0.05-1.6

400/1.57

210

254

107

315

20

SFT 40W

SW

25-32

25

0.05-1.6

400/1.57

210

254

107

315

20

SFT 40F

RF

25-50

25

0.05-1.6

400/1.57

270

254

107

315

26
Structural features
1. The working principle of the lever float steam trap is based on the density of vapor and liquid.
2. The valve body and bonnet are made of cast steel/forged steel.
3. All internal parts are made of stainless steel, and the wear allowance has been fully considered in the design of movable parts, which improves the service life of the trap.
4. Special flow channel design to achieve zero water hammer.
5. Patented flexible closing system and micron-level precision closing system double guarantee no steam leakage and long service life.
6. Built-in air exhaust valve to prevent steam lock.
7. The independent filter makes the trap work in a clean environment.
8. Choose diferent displacement curves according to the pressure.
9. The back pressure rate is as high as 95%
10. The drain plug is designed at the bottom of the trap to ensure that the internal water is removed after stopping, to prevented foating ball from freezing in cold weather.

Welcome to our website. If you have any requests or suggestions,please feel free to email us at vmv@steamvalves.com or use the following enquiry form. Please allow us to provide you with the best service.