SBT60 Pilot-operated Inverted Bucket Steam Trap
SBT60 Displacement Curve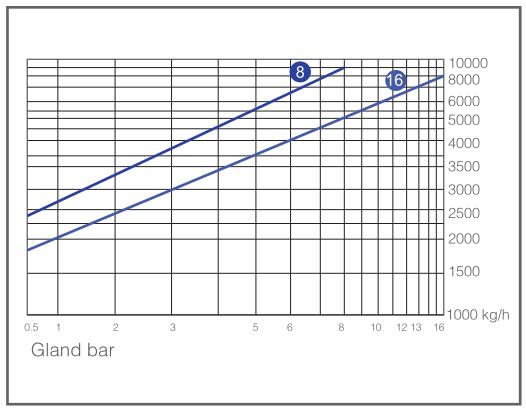 Applications
1. Medium and large heat exchangers and kettles.
2. Heating equipment such as medium and large coil air and concentration.
3. Medium and large heaters such as reboiler and distillation tower.
Material
| | |
| --- | --- |
| Cap | A105 |
| Valve Body | WCB |
| Seat | Stainless Steel |
| Disc | Stainless Steel |
| Other Internals | Stainless Steel |

Data Size Table
Type

Conn

DN

PN

Working

Pressure

MPa

Temperature°C

Pressure

MPa

Diameter (mm)

U.W

Kg

L

H

H1

W

SBT 60W

SW

25-32

25

0.05-1.6

400/1.57

260

460

260

220

27.5

SBT 60F

RF

25-50

25

0.05-1.6

400/1.57

320

460

260

220

36
Structural features
1. The working principle of the pilot inverted bucket steam trap is to rely on the difference in vapor and liquid density,and the pilot valve is opened to guide the main valve to open.
2. The valve body and bonnet are made of cast steel.
3. All internal parts are made of stainless steel, and the wear allowance has been fully considered in the design of movable parts, which improves the service life of the trap.
4. U-shaped runner design to achieve water sealing effect without leaking steam.
5. The patented flexible closing system has no steam leakage.
6. Equipped with a water-proof device so that the fluid entering the valve body will not produce water-hammer.
7. Built-in check valve is suitable for superheated steam environment.
8. Built-in flter makes the trap work in a clean environment.
9. Choose diferent displacement curves according to the pressure.
10. The back pressure rate is as high as 90%.
11. After stopping, the screw plug can drain the condensed water to prevent damage to the trap due to freezing at low temperature.

Welcome to our website. If you have any requests or suggestions,please feel free to email us at vmv@steamvalves.com or use the following enquiry form. Please allow us to provide you with the best service.